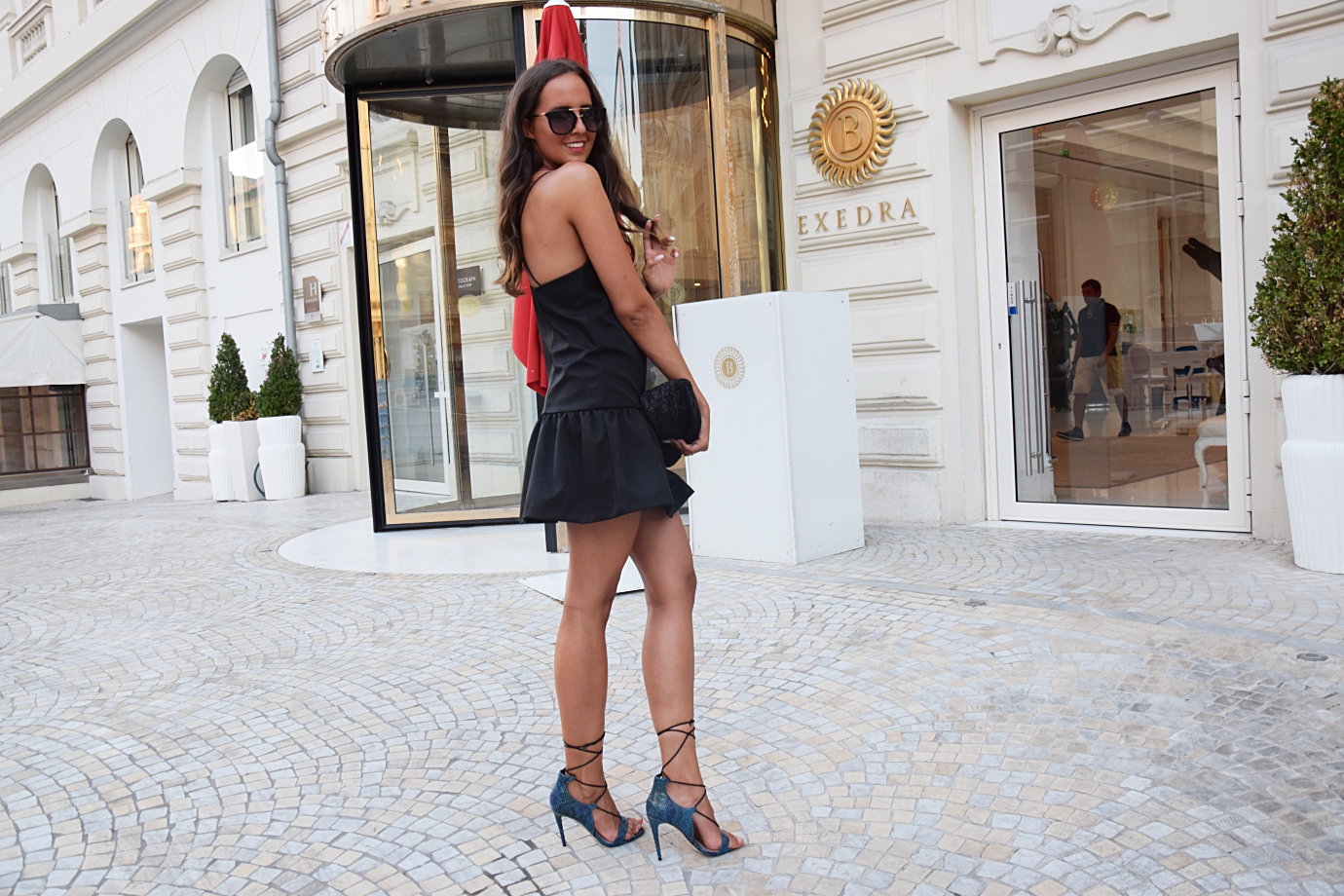 ENG Since I am back from Las Vegas and my extended summer 2016 has come to an end (as for now), I decided to finally summer up my trips for this year. I still have some unpublished places and outfits that I would like to share with you before it's sweater weather on my blog. Let's start with my trip to Nice!
For years, one of the places on my wish list has been Côte d'Azur. If you've been following me for a bit longer, you may know that Paris and I are not best friends. I haven't seen much more of France, so I thought that my (non-existent) feelings for Paris are caused be the overvaluation that accompanies the city.
Before going to Nice, I had to forget about Paris and give the French Riviera a fair chance to make me fall in love. It has the perfect conditions to impress me as the beaches are beautiful and food delicious. But being super lucky falling in love (not), you can imagine what happened.                                                                                                                                                                                     Adventures fill your soul, no doubt about that. As soon as a city touches my soul, my heart follows. Some people say that happiness cannot be traveled to. That is absolutely wrong. Happiness is a place. It doesn't have to, but it can be. Not for everybody, not always.
Anytime I leave Rome or New York,  I miss the person I am at that time and how a foreign place completes me. There are lots of places I visited and shaped an unbelievable connection to. This is one of my favorite parts about traveling (besides food). I appreciate this deep relation more than anything as it gives me the opportunity to enjoy everything else about a place even more. Somehow, if a city doesn't give me a spiritual experience itself, I cannot completely cherish its people, buildings or nature. I can have a great time and be happy at that moment, but I know from experience that it won't last after I am gone. I met so many people while traveling. And guess what? Some of those people I proudly call friends now, and they all live in places I developed this magical connection to.
Nice is a beautiful place. Just like Paris. I understand why people love it so much. The beaches are dreamy, the old town is charming and there is lots of good food. That is important, right? I will probably go back one day and give it one more try. In the end I had a very good time. Just the magic is missing.
//
DE Mein verlängerter Sommer ist nun offiziell zu Ende, seitdem ich aus Las Vegas zurückgekommen bin. Ich habe mich dazu endlich entschieden, meinen Sommer 2016 auf meinem Blog zusammenzufassen. Es gibt noch einige Outfits und Orte, die bis jetzt unveröffentlicht geblieben sind. Bevor es weiter mit dem Pullover-Wetter geht, nehme ich euch kurz nach Nizza mit!
Seit ungefähr zwei Jahren war die Côte d'Azur auf meiner Wunschliste. Falls ihr schon etwas länger meinen Blog lest, wisst ihr, dass Paris und ich keine besten Freunde sind. Viel mehr habe ich von Frankreich bis jetzt nicht gesehen, also dachte ich immer, dass die (nicht existierenden) Gefühle für Paris aus der Überbewertung der Stadt entstanden sind.
Bevor ich nach Nizza geflogen bin, musste ich Paris vergessen. Die französische Riviera sollte eine faire Chance bekommen, mich von ihrer Charme zu überzeugen. Die perfekten Bedingungen wie schöner Strand und leckeres Essen sind auf jeden Fall vorhanden. Aber da ich ja so viel Glück in der Liebe habe (nicht), könnt ihr euch sicher vorstellen, wie es für mich ausgegangen ist.
Abenteuer füllen unsere Seele. Hier werde ich überhaupt nicht diskutieren. Sobald eine Stadt meine Seele berührt, folgt auch mein Herz. Manche Menschen sagen, dass man zum Lebensglück und Zufriedenheit nicht hinreisen kann. Da stimme ich überhaupt nicht zu. Glück ist ein Ort. Es kann, es muss es aber nicht sein. Nicht immer, nicht für jeden.
Immer, wenn ich aus Rom oder New York zurückkomme, vermisse ich die Person, die ich dort war, und wie das Unbekannte mich erfüllt. Es gibt viele Orte, die ich besucht habe und eine unglaubliche Bindung gewinnen konnte. Es ist mein Lieblingsteil vom Reisen (nach dem Essen). Ich schätze diese tiefe Beziehung am meisten. Sie ermöglicht mir, alles um die Stadt herum noch mehr zu genießen. Irgendwie, kann ich nicht ganz aufblühen und die Menschen, Architektur oder Natur wahrnehmen, wenn die Stadt diese spirituelle Erfahrung nicht mitbringt. Ich kann Spaß haben und in dem Moment glücklich sein, aber ich weiß, dass es nicht mehr hält, sobald ich wieder weg bin. Ich habe so viele Menschen durch meine Reisen kennengelernt. Und wisst ihr was? Einige dieser Menschen kann ich stolz Freunde nennen, und sie alle wohnen in Städten, zu den ich eine besondere Bindung habe.
Nizza ist wunderschön. Und so ist auch Paris. Ich kann nachvollziehen, weshalb dieser Ort so geliebt wird. Die Strände sind traumhaft, die Altstadt charmant und das Essen superlecker. Das ist wichtig, nicht wahr? Ich werde mit Sicherheit irgendwann zurückkommen und der Stadt eine zweite Chance geben. Immerhin hatte ich viel Spaß. Nur die Magie hat gefehlt.
H&M dress / ASOS heels / ZARA clutch / PRADA sunnies