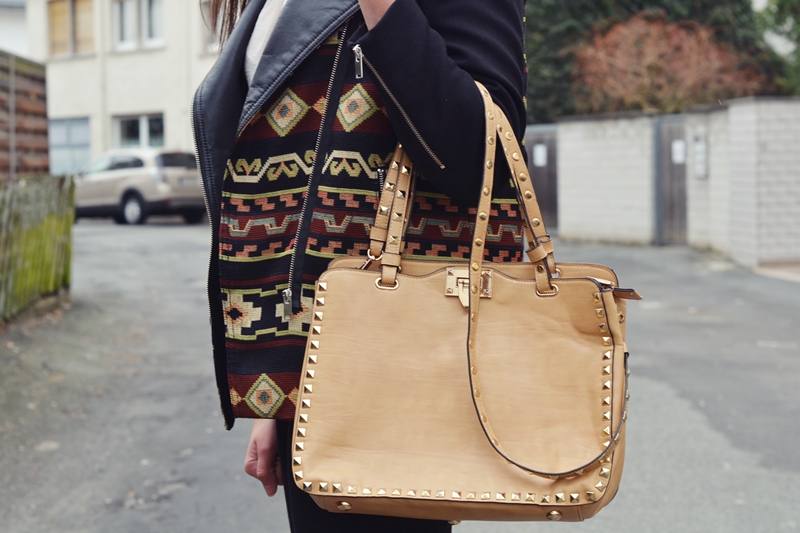 ENG White blouse and black skinny jeans is the safest look ever. It is also one of my favorite combinations even though I don't wear jeans a lot. I simply prefer dresses, skirts and shorts. If it comes to blouses I think I've got every possible color in my wardrobe. I spiced this basic look with my new purchases. Starting with the bag I got from VJ STYLE and love because of the color and golden details. Via the necklace I got on sale in Poland through to my new jacket which I adore for its pattern plus patchwork sleeves and collar. I bet you know my shoes by now, so they're nothing spectacular. I have to say I wasn't sure about the bag. I was going to wear a black one, but decided to take this beauty with me in the last minute. Now I think it was the right thing to do. Still, you can tell me what you think! Have a nice weekend.
DE Eine weiße Bluse und schwarze Röhrenjeans sind der einfachste Look überhaupt. Es ist aber auch eins meiner Lieblingskombinationen, selbst wenn ich Jeans nicht allzu oft trage. Ich bevorzuge eben Kleider, Röcke und Shorts. Was die Blusen angeht, habe ich praktisch jede mögliche Farbe in meinem Kleiderschrank. Dieses einfache Outfit habe ich mit meinen neuen Anschaffungen aufgepeppt. Ausgehend von meiner neuen Tasche, die ich von VJ STYLE zugeschickt bekommen habe und aufgrund der Farbe und den goldenen Details liebe. Über die neue Kette, die ich in Polen gekauft habe, bis zu der neuen Jacken, die ich für das Muster und die patchwork Ärmel, sowie Kragen verehre. Ich wette, dass ihr meine Schuhe schon kennt, also sind sie nichts spektakuläres. Ich war mir nicht sicher, ob ich diese oder eine schwarze Tasche tragen soll. In der letzten Minute habe ich mich jedoch für das neue Stück entschieden und denke, dass es die richtige Entscheidung war. Trotzdem könnt ihr mir schreiben, was ihr darüber denk! Schönes Wochenende!
PL Biała koszula i czarne rurki to najbezpieczniejszy zestaw jaki może być. Jest to również jedna z moich ulubionych kombinacji, nawet jeśli nie za często chodzę w spodniach. Po prostu preferuję sukienki, spódnice i spodenki. Jeśli chodzi o koszule to mam chyba każdy możliwy kolor w swojej szafie. Dzisiejszy prosty look chciałam uatrakcyjnić moimi nowymi zdobyczami. Zaczynając od mojej nowej torebki, którą dostałam od VJ STYLE i kocham za jej kolor i złote detale. Poprzez naszyjnik, który kupiłam na przecenach w Polsce do nowej kurtki, którą uwielbiam za wzór i patchwork rękawy oray kołnierz. Założę się, że znacie już moje buty, także nie są one niczym spektakularnym. Nie byłam pewan, jaką torebkę wybrać. Wahałam się między czarną a tą karmelową. W ostatniej minucie zdecydowałam się na nowe cudeńko i teraz wydaje mi się, że był to dobry wybór. Tak czy siak możecie mi powiedzieć co myślicie! Miłego weekendu!