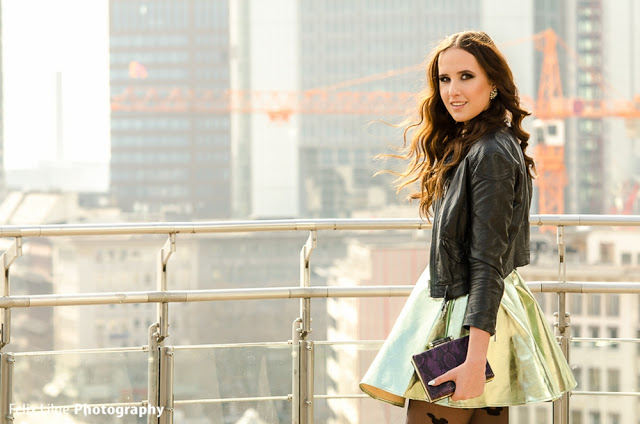 Before there was sex, before there was the city, there was just me: Jessica. Jessica Jersey
"Sex and the City" & "The Carrie Diaries" inspired outfit and photoshoot!
ENG
When I first unpacked my 
LASHES OF LONDON
 parcel and saw this amazing green, metallic skirt it totally reminded me of Carrie Bradshaw. I assume that all of you know the series "Sex and the city". If I'm honest, I never watched a single episode, but I'm obsessed with the new show " The Carrie Diaries". I knew that I'll be Carrie for one day wearing this skirt. I'm still not that brave with the colors she wears in the show and that's why I went for black. Black leather jacket, black heels and the cutest Minnie Mouse tights! As for me I went crazy with the accessoires. Usually I don't like wearing earrings and necklaces at the same time but it seemed totally right thinking about Carries style and the purple clutch was the perfect match.
I can somehow identify myself with Carrie. She works for the Interview Magazine which I also had the chance while being in Berlin at the beginning of this year. She lives in a small town "next to" Manhattan. I live in a not that small town next to Frankfurt which would be my New York, haha! If you haven't done that yet you should definitely check out "The Carrie Diaries" and 
LASHES OF LONDON
!
//
DE
Als ich mein Paket von 
LASHES OF LONDON
 ausgepackt habe und den wunderschönen, grünen, metallischen Rock sah, musste ich direkt and Carrie Bradshaw denken. Ich gehe davon aus, dass jeder von euch die Serie "Sex and the city" kennt. Wenn ich ehrlich bin, habe ich keine einzige Folge davon gesehen, aber umso mehr liebe ich die neue Show " The Carrie Diaries". Ich wusste, dass ich Carrie für einen Tag sein werde, wenn ich diesen Rock trage. Was die Farben angeht bin ich immer noch nicht so mutig und deswegen habe ich mich für schwarz entschieden. Schwarze Lederjacke, schwarze Heels und die süßesten Minnie Mouse Strumpfhosen! Ich geriet außer Rang und Band mit dem Schmuck. Eigentlich mag ich es gar nicht Ohrring und Ketten gleichzeitig zu tragen, aber es hat den Still von Carrie total getroffen und auch die lila Clutch schien perfekt zu sein.
Irgendwie kann ich mich auch mit Carrie identifizieren. Sie arbeitet für das Interview Magazin und die gleiche Möglichkeit hatte ich auch, als ich am Anfang des Jahres in Berlin war. Sie wohnt in einer kleinen Stadt "in der Nähe" von Manhattan. Ich wohne in nicht allzu kleinen Stadt in der Nähe von Frankfurt, was mein New York wäre, haha!
Wenn ihr die Serie "The Carrie Diaries" noch nicht kennt, solltet ihr diese euch schnellstmöglich anschauen und den Shop 
LASHES OF LONDON
 auschecken!
//
PL
Gdy otworzyłam paczkę od 
LASHES OF LONDON
 i ujrzałam tą piękną, zieloną, metaliczną spódnicę od razu na myśl przyszła mi Carrie Bradshaw. Chyba każdy z was zna serial "Seks w wielkim mieście". Muszę przyznać, iż nie widziałam ani jednego odcinka, ale mam obsesję ma punkcie nowego show "Pamiętniki Carrie". Wiedziałam, że nosząc tą spódnicę będę Carrie na jeden dzień. Jeśli chodzi o kolory, to jednak dalej wybieram te bezpieczne i dlatego zdecydowałam się na czerń. Czarna skóra, czarne szpilki i najsłodsze rajstopy z myszką Minnie. Można jednak powiedzieć, że zaszalałam z dodatkami. Tak na prawdę nie lubię nosić kolczyków i naszyjników jednocześnie, ale wydawało mi się to bardzo w stylu Carrie i także fioletowa torebka z złotym wykończeniem była idealna.
W jakiś sposób mogę się także utożsamić z Carrie. Ona pracuje dla Interview Magazine i taką samą szansę miałam na początku roku, kiedy byłam w Berlinie. Carrie mieszka w małym miasteczku "niedaleko" od Manhattanu, ja mieszkam w nieco większym mieście niedaleko od Frankfurtu, który jest moim Nowym Jorkiem, haha!
Jeśli jeszcze tego nie zrobiliście to jak najszybciej przyjrzyjcie się serialowi "The Carrie Diaries" i sklepowi 
LASHES OFLONDON
!