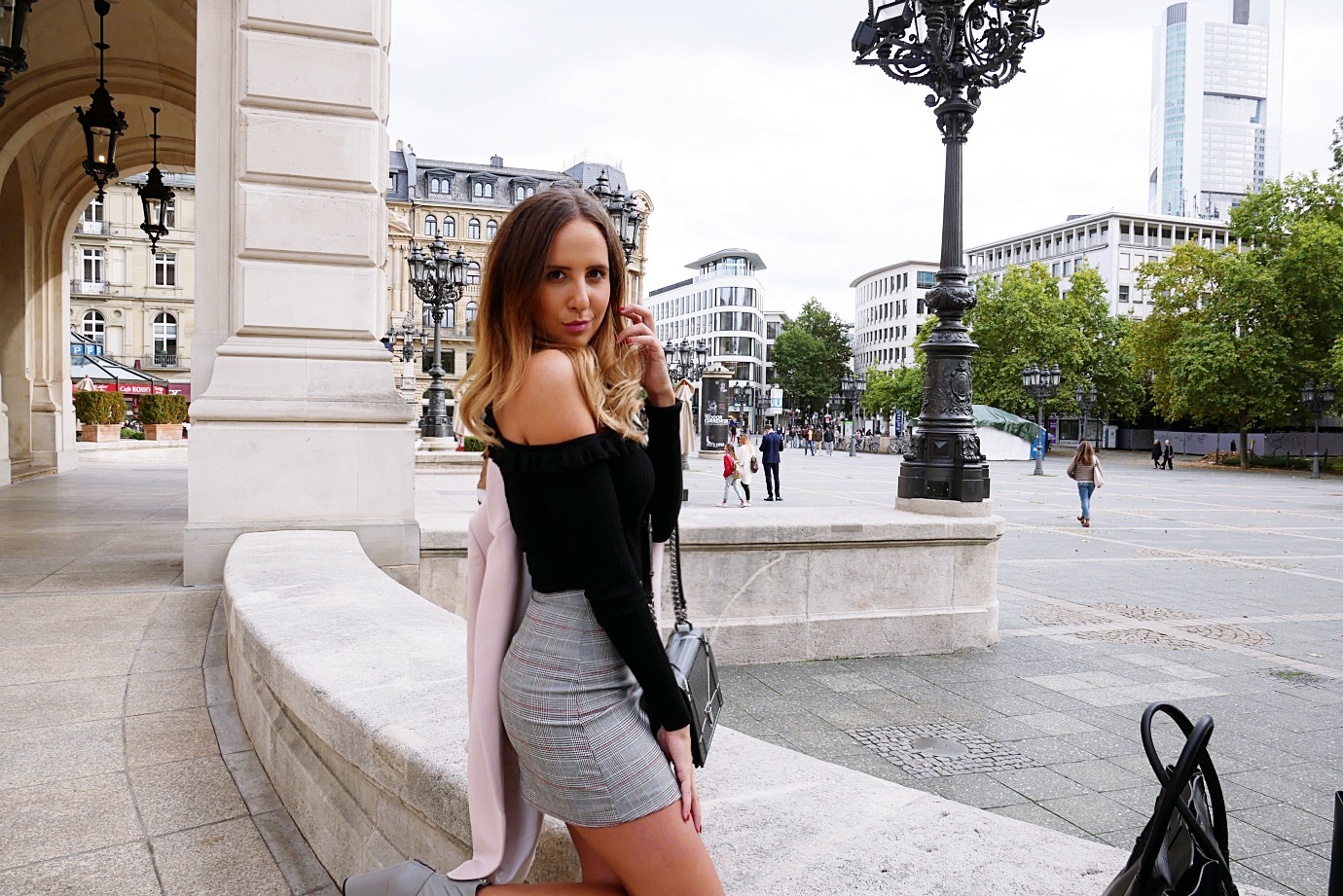 DE 18.12.2015 – an diesem Tag habe ich das letzte Mal einen Post aus Frankfurt hochgeladen. Danach ging es auf Reisen. Auf viele und ferne Reisen. Es ist ziemlich verrückt, dass ich in den letzten Jahren zuhause nur meinen Koffer aus und wieder eingepackt habe. Seitdem gab es auf dem Blog fast nur Reiseberichte und Fotos aus den wunderschönsten und unterschiedlichsten Ecken der Welt. Und eigentlich hat sich Frankfurt gar nicht mehr wie meine Heimatstadt angefühlt.
Back to good old days heißt es heute auf dem Blog! Es gibt einen ganz normalen Post. Aus Frankfurt. Und ein Outfit. Genauso wie früher.
Auch wenn das Oktoberwetter uns gerade ziemlich verwöhnt, ist der Sommer vorbei und es ist an der Zeit in Herbststimmung zu kommen. Ich lasse den Sommer nicht gerne gehen, deswegen habe ich mich für ein leicht sommerliches Makeup entschieden. Normalerweise passe ich mein Makeup immer meinem Outfit an. Heute war es jedoch anders und mein Outfit war durch zwei neue Guerlain Produkte inspiriert. Zum Einen sind es die bunten Météorites Puderperlen (hier) ,die im Herbst einen wunderschönen Glanz auf dem Gesicht verliehen, zum Anderen der KissKiss Lippenstift (hier), der eine perfekte Farbe irgendwo zwischen Sommer und Herbst hat. Beide Produkte könnt ihr auf Flaconi finden. Der Lippenstift hat es mir besonders angetan und wird mit großer Sicherheit auf ganz viele neue Reise gehen.
Mein gesamtes Makeup und das tolle Wetter haben dazu beigetragen, dass ich die typischen Herbstklamotten noch hinten im Schrank gelassen habe. Ich wollte dennoch einen Look kreieren, der den Sommer langsam verabschiedet. Und ich denke, dass ich es ganz gut hinbekommen habe. Durch den Blazer wird das ganze Outfit gleich viel heller und erinnert uns noch an die letzten Sonnenstrahlen. Genau den gleichen Effekt zaubern die Guerlain Perlen auf meinen Gesicht.  Alles ergänzt sich und was für mich noch wichtiger ist – alle Teile harmonieren miteinander.
Ich habe noch einige Reiseberichte für euch! Also bis bald in Griechenland!
//
ENG 18 of December 2015 –  the day I uploaded my last post from Frankfurt. After that I started to travel. A lot and far far away. It is crazy to think that for the past years I only came home to unpack and pack my suites again and again. Since then, my blog was all about travel guides and pictures from beautiful places all around the world. For that reason Frankfurt didn't even feel like home anymore.
Back to good old days! That is happening on my blog today. An usual article. From Frankfurt. And an outfit. Just like back in the days.
Even though the weather this October is treating us better than ever, it is time to say goodbye to summer and get in that Autumn feeling. I'm very clingy and can't let go of the summer so easily. That's why I still decided to keep it going a little bit longer – on my face! Usually I match my makeup to my outfit, but this time it was the other way around. I got inspired by new Guerlain products and created a summery makeup. The Météorites pearls (here) give your face a beautiful glow and the new KissKiss lipstick (here) has the perfect color just somewhere between summer and fall. You can shop both of those products on Flaconi.
My makeup as well as the surprisingly good weather made me put all of my typical fall clothes back in the bottom of my closet. I still wanted to create a look that say bye bye to summer. And I think that it turned out pretty well. The blush jacket makes the outfit brighter und let us remember the last sun rays. It has the same effect as the Guerlain pearls on my face. All the pieces are complement to each other and what's important to me – they all harmonize.
I still have some unpublished travel guides , so see you soon in Greece!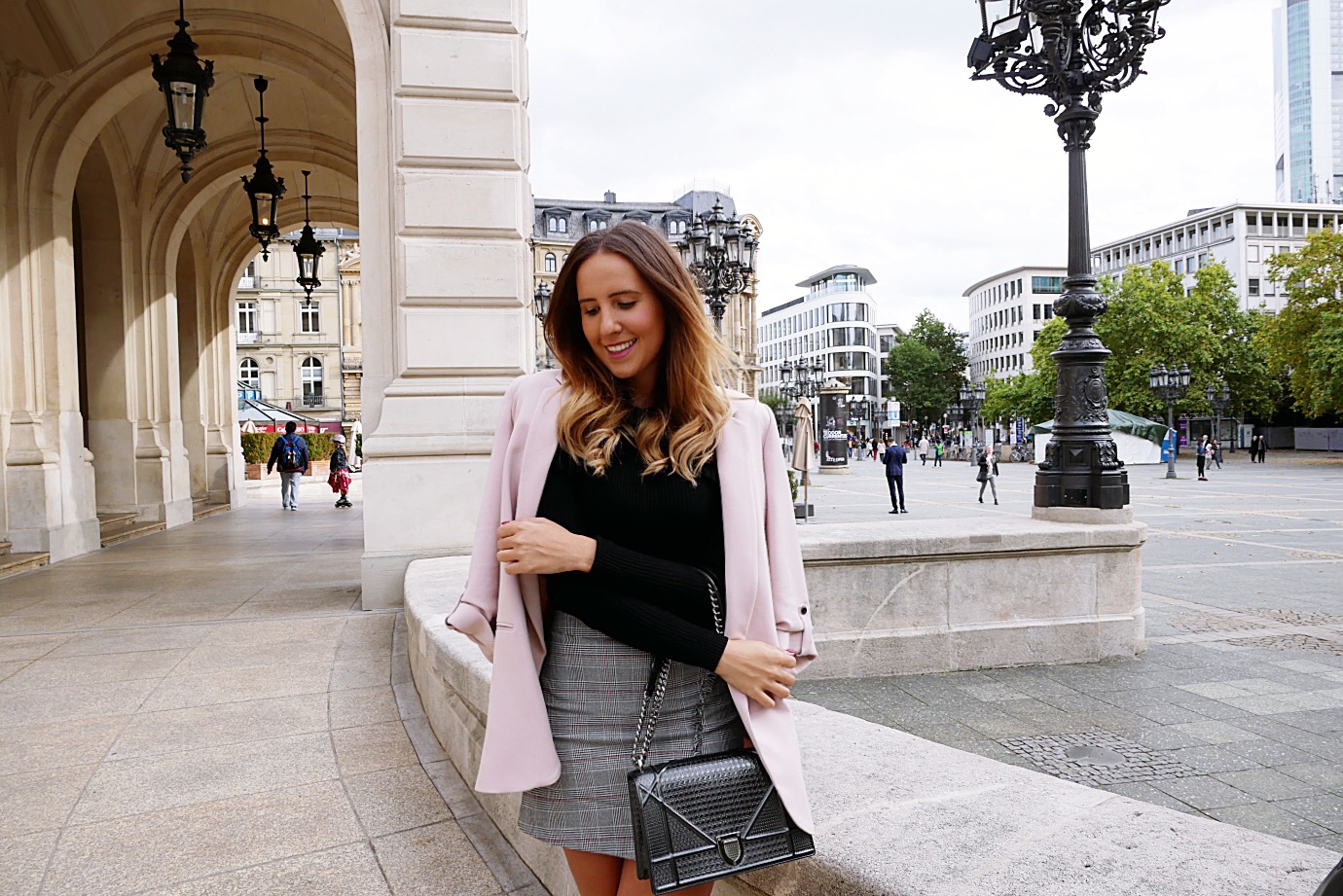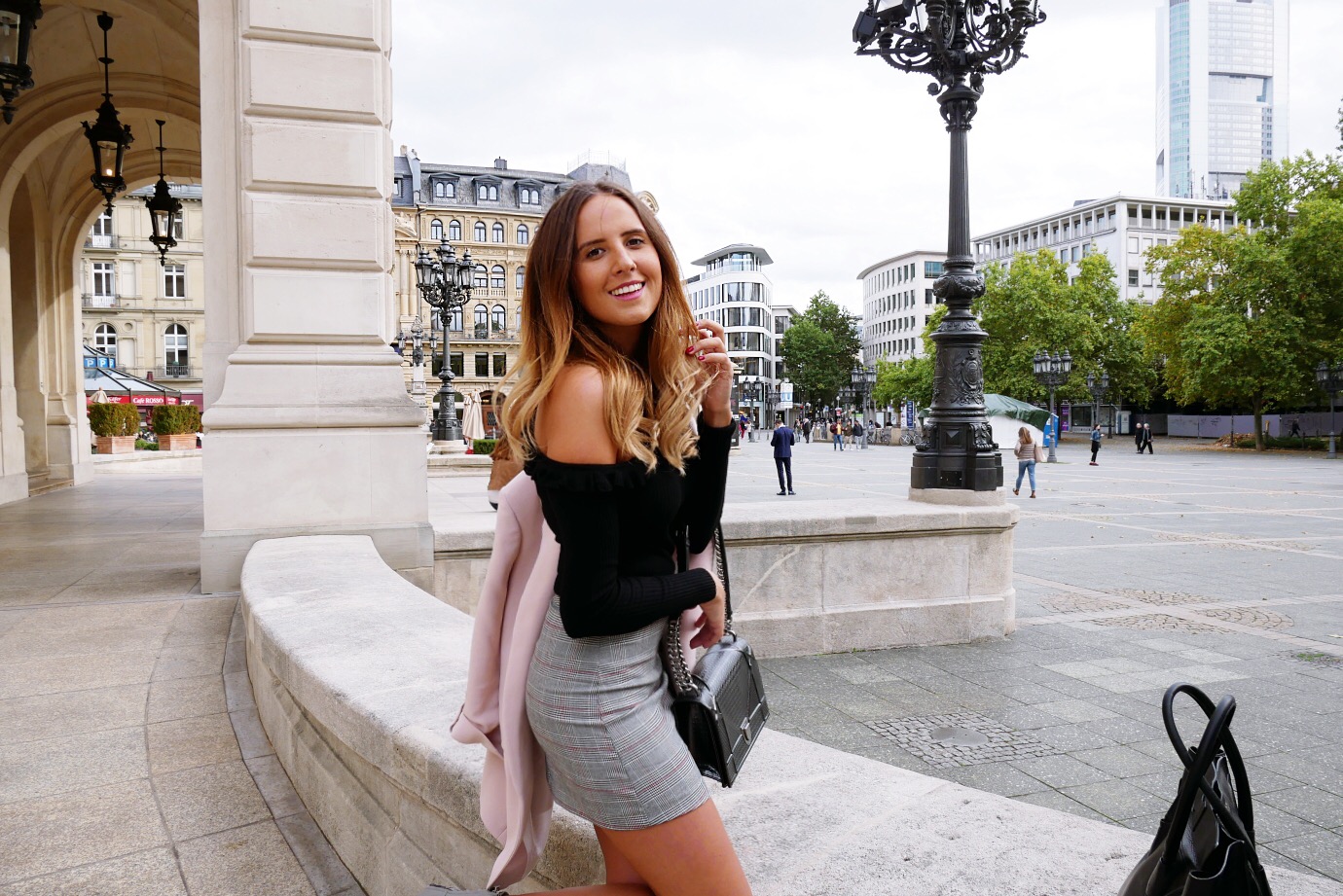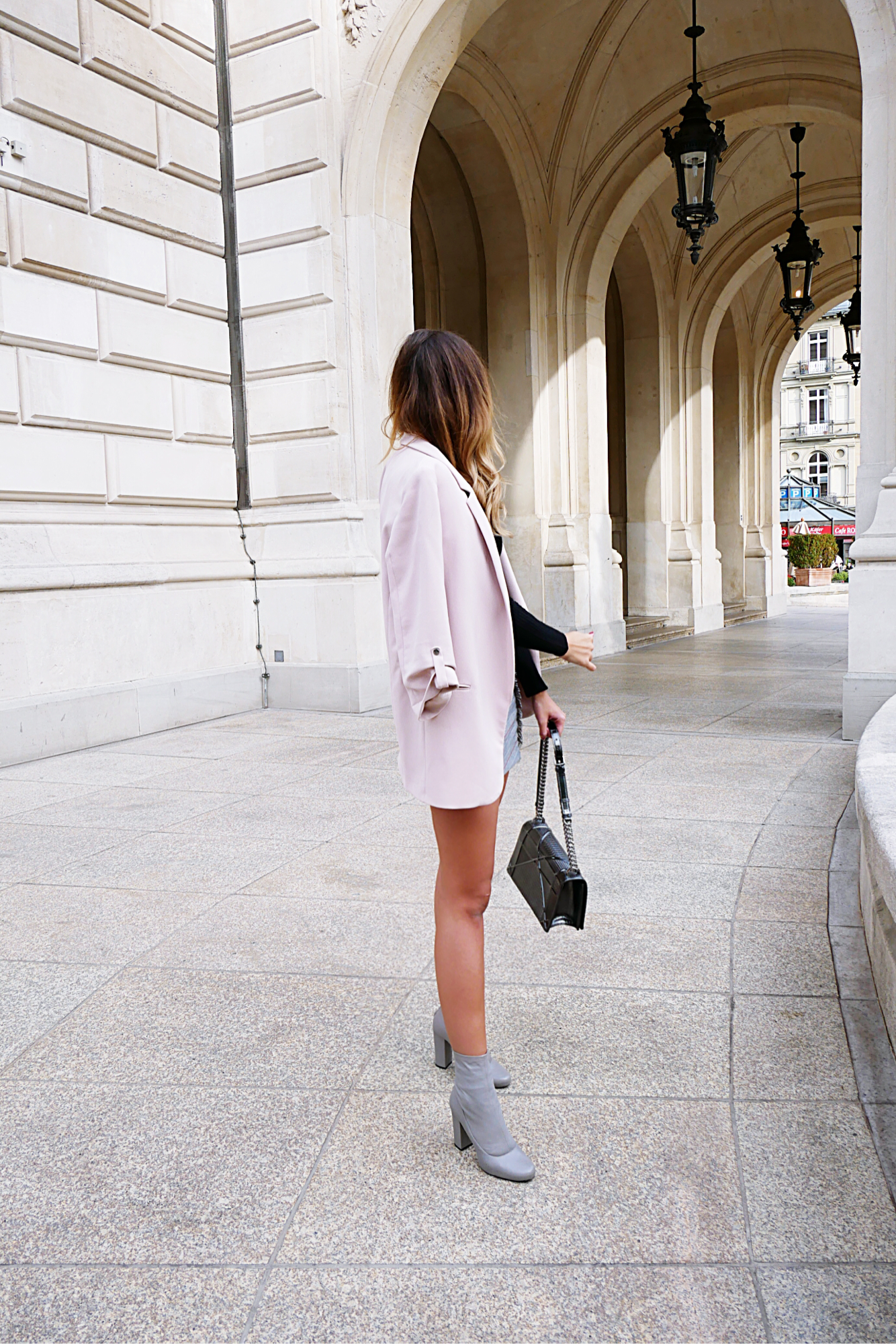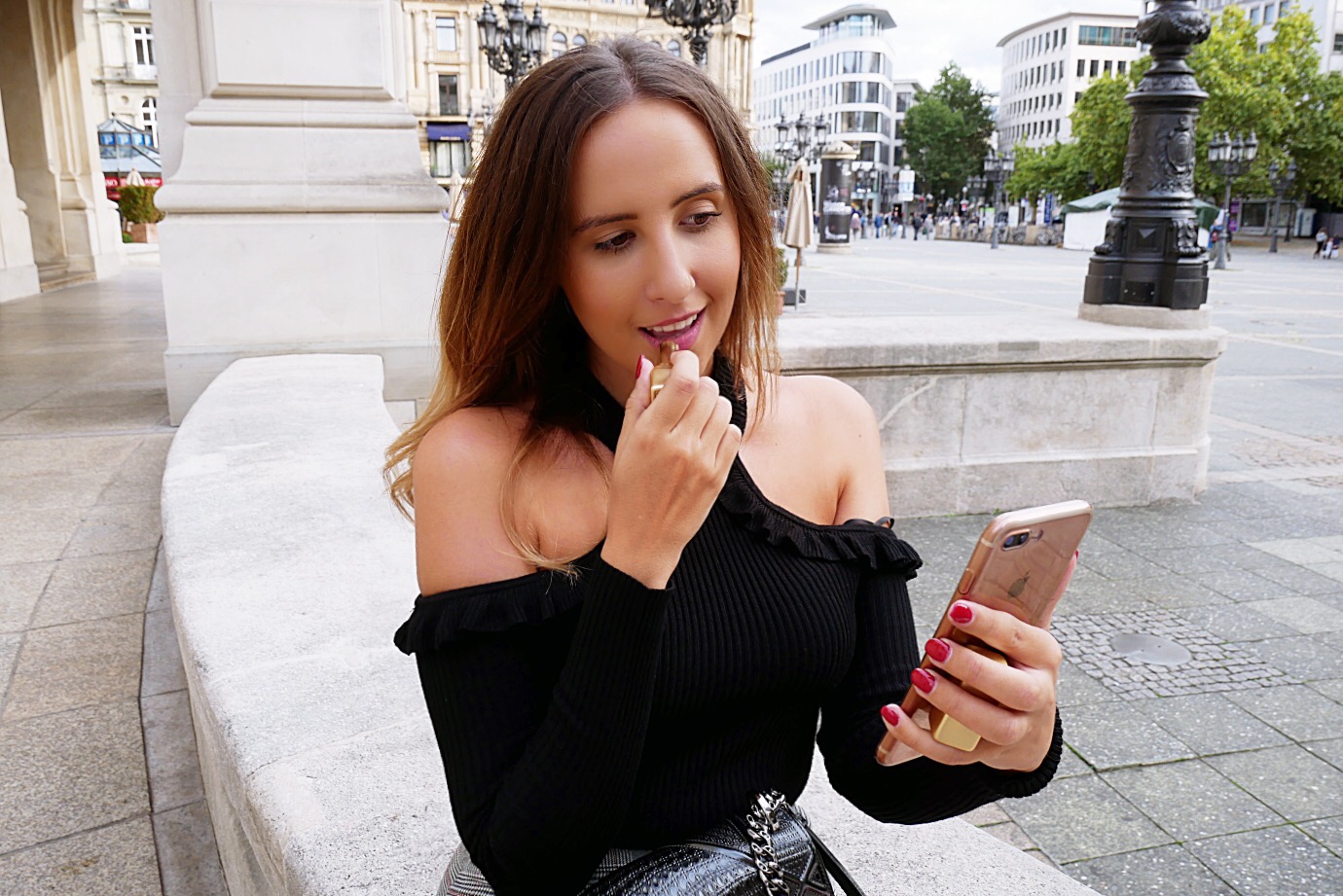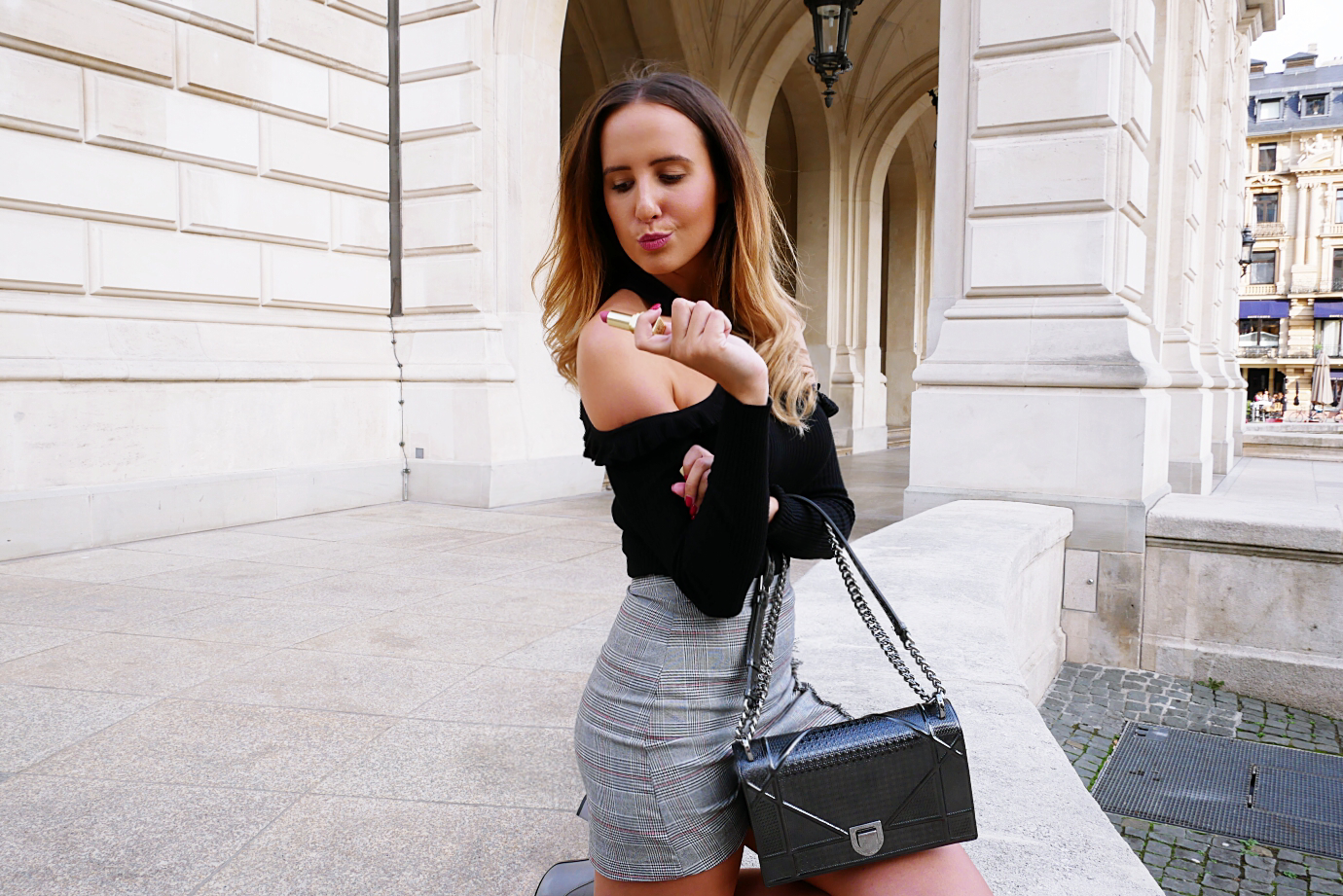 ZARA blazer & shoes / DIOR bag / F21 top / PULL&BEAR skirt
MerkenMerken
MerkenMerken