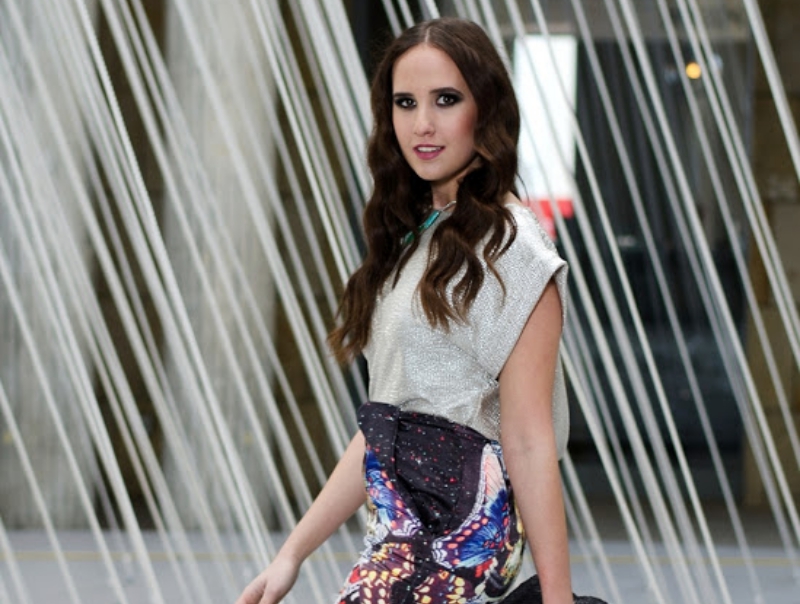 ENG
"Creating" today's outfit was literally playing with fashion and everything that goes with it. Colors, fabrics, accessoires and so on. I don't know what to think about the result of this experiment and I even wasn't sure if I should post these photos, but I would like you to tell me what you think.
I'm really satisfied with my makeup and hair (by Justyna Frydryk) and also with the photos themselves (good job, Felix Lilge)! I do have second thoughts about my choice if it comes to the clothes.
I've been prefering more basics outfit lately. Not a lot of colors, safe   combinations, more feminim but still simple and easy. I sure will stick to those kind of outfits, but I wanted to try something new.
I had a lot of fun with the photographer who took this pictures but I haven't been completely comfortable with those clothes on. I think it could be becasue of my little tummy that came with the extended winter, haha! I'm going to do something about that!
Well, I'm really anxious and curious about your comments!
//
DE
Es war ein richtiges Modespiel, als ich dieses Outfit "kreiert" habe. Alles was dazu gehört war ein kleines Spiel. Die Farben, Stoffe, Accessoires und so weiter. Ich weiß selbst nicht was ich über das Ergebnis von diesem Experiment denken soll. Ich war mir auch nicht sicher, ob ich die Bilder posten will, jedoch würde mich eure Meinung dazu sehr interessieren.
Ich bin sehr mit dem Make-up und mit den Haaren (visa: Justyna Frydryk), sowie mit den Fotos an sich ( Felix Lilge) zufrieden. Ich bin aber von meiner Wahl der Klamotten nicht völlig überzeugt.
Letzlich bevorzuge ich einfache, sichere Kombinationen und Farben, mehr feminin aber doch simpel und schlicht. Ich werde auch sicher zu dieser Art von Outfits in Zukunft tendieren. Dieses Mal wollte ich eben was neues ausprobieren.
Ich hatte sehr viel Spaß mit dem Fotografen, der diese Bilder gemacht hat, aber ich habe mich nicht ganz so wohl in diesen Klamotten gefühlt. Ich glaube, es liegt an meinem kleinen Bäuchlein, der mit dem verlängerten Winter gekommen ist, haha! Ich bin sehr auf eure Kommentare gespannt.
//
PL Dzisiejszy outfit to prawdzina zabawa modą i wszystkim, co się z tym wiąże. Kolory, materiały, akcesoria i tak dalej. Sama nie wiem co myśleć o rezultatach tego eksperymentu. Nawet nie byłam pewna, czy chcę opublikować te zdjęcia, ale jestem zainteresowana waszą opinią.
Z fryzury i makijażu (Justyna Frydryk), a także ze zdjęć samych w sobie (Felix Lilge) jestem bardzo zadowolona. Moja decyzja co do stylizacji nie do końca mnie przekonuje. Ostatnimi czasy pokochałam proste kombinacje, bezpieczne kolory, bardziej kobiece ale jednak stonowane. Na pewno będę wybierać takie outfity w najbliższym czasie. Co do dzisiejszego posta to chciałam po prostu spróbować czegoś nowego.
Nie mogę narzekać na atmosferę przy robieniu zdjęć, jednak nie czułam się całkiem komfortowo w tych ciuszkach. Myślę, że to z powodu mojego brzuszka, który przyszedł z niekończącą się zimą, haha!
Nie mogę doczekać się waszych komentarzy.
OASAP skirt | H&M blazer | ASOS dress & heels | ZARA clutch | Atmosphere necklacke & tights