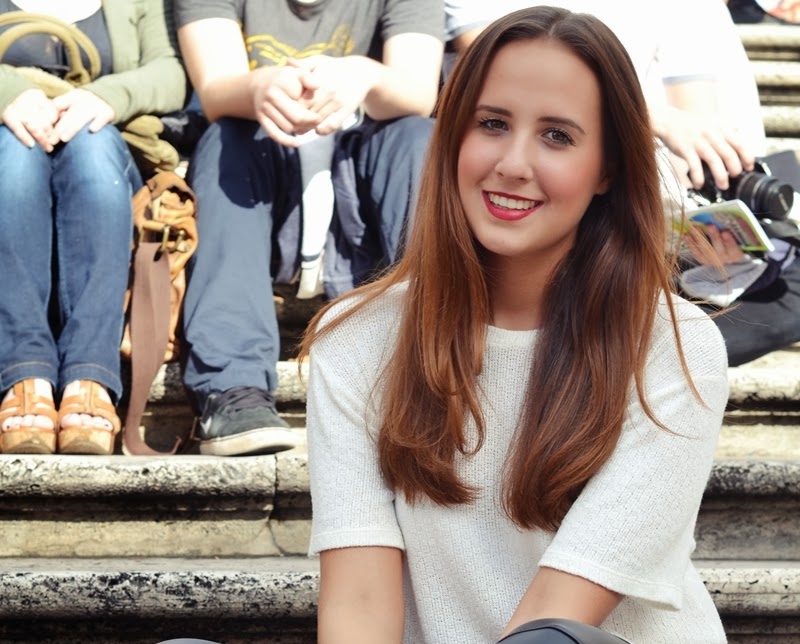 The second part: Musei Vaticani. For me nothing interseting. I liked it the first 10 minutes but then it got very boring. I'm just not into that kind of stuff. I prefer air! A lot of it. Just like the Piazza di Spagna the museum is full. You can barely walk. I think it is worth seeing it though.. Yes, I know, I contradict myself. I just can imagine that a lot you would like the Musei Vaticani a lot!
//
DE Ciao! Heute ist einer der Tage, wo ich keinen gescheiten Satz schreiben kann. Ja, auch mir passiert das manchmal! Aber ganz im Ernst, ich bin mit meinen Gedanken ganz woanders und ich habe keine Ahnung wo. Es sind einfach zu viele Sachen in meinem Kopf. Also, machen wir das schnell und schmerzlos, damit ihr mein Jammern nicht lesen musst.
Heutige Ziele: Piazza di Spagna und Vatikanische Museen. Wir beginnen an den Spanischen Treppe: immer voll, wirklich, die Leute sind einfach überall und das in unglaublichen Mengen. Es war verrückt. Zu viele Menschen sogar für meinen Geschmack. Die Straßenverkäufer geben einem keine Ruhe, Pferde, Autos kann man auch an jeder Ecke sehen. Es ist laut und überfüllt. Sehr Schade, da der Platz an sich total schön ist. Mit originalen Macarons aus Laduree habe ich mich fast wie Queen B auf den MET Treppen gefühlt. Das war ganz nett, da ich ja ein großer Gossip Girl Fan bin.
Zweiter Teil: die Vatikanischen Museen. Für mich eher uninteressant. Die ersten 10 Minuten hat es mir noch gefallen, aber danach fand ich es nur noch langweilig. Es war nicht so meins. Ich bevorzuge Luft, viel Luft! Es war ziemlich genauso voll wie Piazza di Spagna. Man konnte sich kaum fortbewegen. Ich denke jedoch, dass es sehenswert ist, auch wenn nur für die ersten 10 Minuten. Ja, ich weiß, ich widerspreche mir. Ich kann mir aber vorstellen, dass ich einigen von euch gefallen könnte!
//
PL Ciao! Dzisiaj mam jeden z tych dni, kiedy nie mogę sklecić nawet dobrego zdania. A jeśli nie wychodzi mi to po angielsku, to z polskim będzie jeszcze gorzej za co z góry przepraszam. Totalnie odpłynełam i myśle tylko o niebieskich migdałach. Zanim będziecie musieli czytać moje jęczenie to napisze kilka zdań szybko i bezboleśnie.
Dzisiejsze cele w Rzymie: Piazza di Spagna i Muzea Watykańskie. Zaczynamy na hiszpańskich schodach. Ludzie, wszędzie ludzie, w ilościach o których nawet nie zadarzyło mi się śnic. Coś szalonego. Za dużo ludzi nawet jak na mój gust. Wszędzie handlarze badziewa, auto, konie, jest głośno i wszystkich pełno.Szkoda, bo miejsce samo w sobie jest piękne. Jedząc oryginalne macarony z Laduree czułam się prawie jak Queen B na schodach MET.  Miłe uczucie jak dla mnie, wielkiej fanki Gossip Girl.
Druga część dnia: Muzea Watykańskie. Nic dla mnie. Zupełnie nie dla mnie. Przez pierwsze 10 minut mogłam jeszcze pokazać jakąś nutkę zainteresowania a później już tylko nuda. Ludzi tyle samo co na Placu Hiszpańskim.. Chyba wszyscy przeszli stamtąd do muzeum. Myślę jednka, że dla wielu z was byłoby to interesujące. Nie polecam, ale jest warte obejrzenia. Przez pierwsze 10 minut.