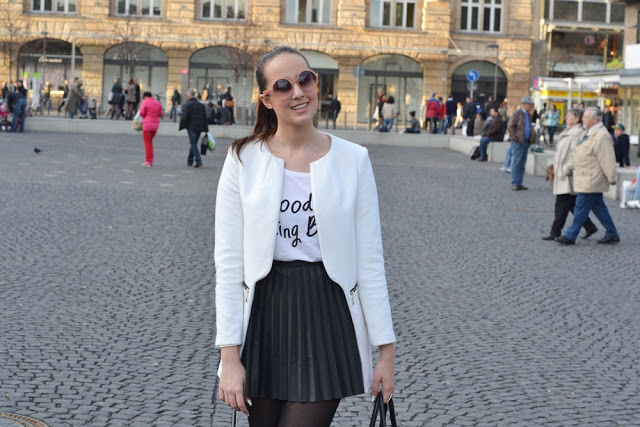 ENG
This years spring doesn't mean anything else for me than wearing skirts, shorts and my spring jackets without freezing. No colors, pastels, no flower patterns for now. Those will lay a little bit longer in my wardrobe. Black and white is my favorite combination at the moment. I just love looking like a Oreo cookie, haha.
After I posted few outfits that were a complete experiment today's outfit is totally my style again. Simple but still classy, basic but still fashionable. I decided to wear a plaid faux leather skirt, black wedges, white coat and a peach accent in the form of my sunglasses. I have to say this outfit made people in Frankfurt look after me as I run past them. Kind of funny.
If it comes to my makeup it's brighter and I prefer light lips. Pink, orange and peach shades are  perfect as for me. Hope you like it!
//
DE
Diesjähriger Frühling bedeutet nichts anderes für mich als Röcke, Shorts und Frühlingsjacken zu tragen, ohne dass ich einfriere. Farben, Pastelle, Blumenmuster bleiben erstmal in meinem Kleiderschrank. Schwarz und weiß ist meine Lieblingskombination zurzeit. Ich liebe es einfach wie ein Oreokeks auszusehen, haha.
Nachdem ich ein paar Outfits gepostet habe, die ein komplettes Experiment waren, ist heute wieder die Zeit für ein Outfit in meinem Still. Einfach aber elegant, gewöhnlich und dezent aber schick. Ich habe mich für einen Faltenrock in Lederoptik entschieden, dazu schwarze Schuhe, weißer Mantel und ein pfirsich Akzent in Form von meinen Sonnenbrillen. Ich muss sagen, dass das simple Outfit sehr viele Blicke in Frankfurt an sich gezogen hat, als ich an den Leuten vorbeigelaufen bin. Bisschen lustig.
Was mein Make-up angeht, mag ich es gerne etwas heller und bevorzuge auch hellere Lippenstifte als sonst. Rosa, pink, pfirsich und nude Nuancen sind meine Favoriten. Ich hoffe, dass es euch gefällt!
//
PL
Tegoroczna wiosna nie znaczy dla mnie nic innego niż noszenie spódniczek, spodenek i wiosennych kurtek bez marznięcia. Kolory, pastele, kwiaty itd. zostają jak na razie głęboko w mojej szafie. Czarno-biała kombinacja jest teraz moją ulubioną. Po prostu lubię wyglądać jak ciasteczko Oreo, haha.
Po tym jak moje poprzednie stylizacje były kompletnym eksperymentem przyszedł czas na outfit w bardzo moim stylu. Prosto ale elegancko, zwykle ale modnie. Zdecydowałam się na "skórzaną" spódniczkę, czarne koturny, biały płaszczyk i brzoskwiniowy akcent w postaci moich okularów. Muszę przyznać, że ten niby tak prosty zestaw przykuł do siebie dużo wzroków jak mijałam ludzi. Trochę zabawne.
Jeśli chodzi o makijaż to stawiam na bardzo naturalny wygląd i jasne usta. Różowe, brzoskwiniowe i nude odcienie są jak dla mnie idealne. Jak wam się podoba?